Exploit: Unauthorized database access
Poshmark: Social commerce marketplace for buying and selling clothing, shoes, and accessories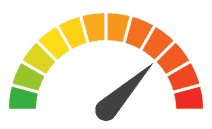 Risk to Small Business: 2.222 = Severe Risk: Hackers gained access to the company's database where they accessed customers' personal information. The company hashed and salted users' passwords, making it difficult for hackers to use this information to directly access user accounts. However, similar breaches at online retailers eventually saw their customers' data sold on the Dark Web, giving Poshmark a heavy responsibility to identity the stolen information and to ensure its long-term integrity. In addition, the company is paying the expense of hiring a third-party cybersecurity team to update their protocols in the wake of the breach.
Individual Risk: 2.714 = Moderate Risk: Poshmark is used by customers in Canada and the United States, but only US-based accounts were impacted by the breach. For those impacted by the breach, their usernames, passwords, names, gender, and city of residence are compromised. In addition, some platform-related content, like clothing size, was also made available. Ensuring this data's security is a long-term process that doesn't have an easy solution. Therefore, users should attain the monitoring services necessary to secure their information.
Customers Impacted: Unknown
How it Could Affect Your Customers' Business: Research shows that customers are unlikely to return to a platform that compromises their personal data, making cybersecurity not just a technological issue but a bottom-line priority. Providing comprehensive care to those impacted by a breach allows companies to put their best foot forward toward restoring the customers' confidence, and, hopefully, retaining their business.
Risk Levels:
1 - 1.5 = Extreme Risk
1.51 - 2.49 = Severe Risk
2.5 - 3 = Moderate Risk
*The risk score is calculated using a formula that considers a wide range of factors related to the assessed breach.