Exploit: Unauthorized email account access
Select Health Network: Indiana-based collection of healthcare providers
Risk to Small Business: 1.444 = Extreme: An employee's compromised email account credentials were used to access sensitive data for thousands of patients. The data was accessed between May 22 and June 13, and it's unclear why it took the company so long to identify the breach and to report it to patients. Regardless, a small vulnerability will likely result in a sizeable blowback in the form of regulatory scrutiny, brand erosion, and potential financial repercussions.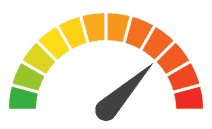 Individual Risk: 2.142 = Severe: Hackers had access to patient data, including names, addresses, dates of birth, member identification numbers, treatment information, health insurance details, medical history information, and medical record numbers. In addition, some patients' Social Security numbers were accessible. Those impacted by the breach should know that their credentials could have already been misused, and they should take steps to evaluate their data integrity while also ensuring long-term security.
Customers Impacted: 3,582
How it Could Affect Your Customers' Business: Small security lapses can have serious consequences, as evidenced by the expansive breach resulting from one compromised employee account. However, companies have an obligation to support their customers after a breach and identifying what happened to their data after it was stolen is a good place to start. Taking the right course of action to support customers after a breach can go a long way towards repairing the reputational damage that can have far-reaching repercussions.
Risk Levels:
1 - 1.5 = Extreme Risk
1.51 - 2.49 = Severe Risk
2.5 - 3 = Moderate Risk
*The risk score is calculated using a formula that considers a wide range of factors related to the assessed breach.