https://therecord.media/k-12-cyberattacks-new-mexico-ohio/
Exploit: Ransomware
Fort Sumner Municipal Schools (New Mexico) & Washington Local Schools (Ohio): Local Education Agency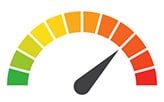 Risk to Business: 1.804 = Severe
The Cl0p ransomware gang has posted information that points to a successful ransomware attack against the Fort Sumner Municipal Schools agency in New Mexico. The Superintendent of Schools in the district confirmed the incident. This is just the latest in a long string of ransomware attacks that have impacted public school systems in the US. Just this week, the Washington Local Schools district in Ohio was also hit with a ransomware attack, this time impacting the district's phone, email, internet and WiFi networks as well as Google Classroom.
Individual Impact:
No information about consumer/employee PII, PHI or financial data exposure was available at press time.
How It Could Affect Your Customers' Business: Bad actors know that using ransomware against targets with time-sensitive business can be profitable.
Risk Levels:
1 - 1.5 = Extreme Risk
1.51 - 2.49 = Severe Risk
2.5 - 3 = Moderate Risk
*The risk score is calculated using a formula that considers a wide range of factors related to the assessed breach.