Exploit: Compromised email account
Solara Medical Supplies: Supplier of diabetes-related treatment products
Risk to Small Business: 1.444 = Extreme: An unauthorized third-party gained access to several employee accounts containing patient and employee data. The breach was first discovered on June 20th, and the compromised data was exposed between April 2nd and June 20th. In response, the company reset account passwords, and Solara is updating its policies to ensure that a similar scenario doesn't occur again in the future. Unfortunately, such maneuvers won't help patients whose data was already stolen in the breach. Moreover, the company's lengthy response time will certainly invite increased regulatory scrutiny while giving consumers fodder for criticism during the recovery effort.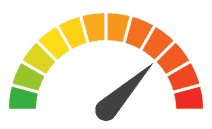 Individual Risk: 2.142 = Severe: Personal information, including names, addresses, dates of birth, Social Security numbers, employee identification numbers, medical information, health insurance information, financial information, credit/debit card numbers, password information, Medicare/Medicaid numbers, and billing information were all at risk. This comprehensive data set can quickly be distributed on the Dark Web, where it can be used to execute even more egregious cybercrimes. Those impacted by the breach should take every precaution to ensure that their data isn't being misused.
Customers Impacted: 82,577
How it Could Affect Your Customers' Business: Preventing a data breach begins with accounting for your vulnerabilities. One of the easiest yet most important cybersecurity initiatives that businesses should undertake is tightening up security around company email accounts. Whether your business fortifies credentials with strong, unique passwords and two-factor authentication or it integrates active monitoring protocols to evaluate data movement, password protection is quickly becoming a "can't miss" component of any data security strategy.
Risk Levels:
1 - 1.5 = Extreme Risk
1.51 - 2.49 = Severe Risk
2.5 - 3 = Moderate Risk
*The risk score is calculated using a formula that considers a wide range of factors related to the assessed breach.